If you're patching MapleStory on the Nexon Launcher, you may encounter an issue where the download seems to get stuck at 100%.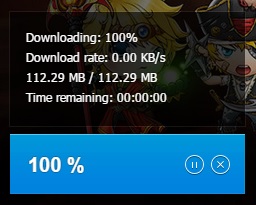 After completing the download, Nexon Launcher stays at 100% for 5 to 10 minutes while it finishes the patch.Please let it finish without pressing the 'X' button or the 'Pause' button, as this will interrupt the patching process. The button will change to 'Play' after 5 to 10 minutes.
We are working to resolve this display issue as soon as possible. Thanks for your patience!